Car Accidents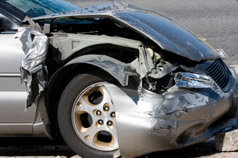 Kentucky is a "no fault" state for claims arising from a motor vehicle accident. If you are in a Kentucky traffic accident, your own insurance company will cover reasonable and necessary medical bills related to your wreck. Your insurance company will also cover lost wages up to $200.00 per week if you are unable to work following the accident. This is true, even if the other party is completely at fault. For example, even if another driver runs a red light or rear-ends your vehicle in Newport, Covington or Florence, Kentucky, the first source of payment will be from your own insurance company.
Basic Personal Injury Protection ("PIP") or no fault coverage in Kentucky is $10,000.00. Additional PIP or no fault coverage can be purchased from your insurance company.
It is not uncommon for a Kentucky driver to ask why their own insurance company has to pay accident related medical bills when the other driver is at fault. It is helpful to keep in mind that compensation for injuries arising from a motor vehicle accident in Kentucky is available in a two-tiered system.
The first tier of damages comes from your own insurance carrier's no fault coverage, as discussed above. The no fault statute is designed to remove small fender bender type cases from the court system.
A Kentucky motorist can then maintain a lawsuit if the severity of the injuries meet certain thresholds. For example, the no fault threshold can be met if your medical bills exceed $1,000.00 or if you have a permanent injury or broken bone.
If an injured driver meets one of the threshold components set out in the statute, a lawsuit can be maintained against the at-fault driver. In the suit, the car accident victim can potentially recover a full array of damages. Car wreck victims may recover lost wages and medical bills to the extent they exceed the amounts covered by PIP or no fault coverage. Damages also include pain and suffering, and loss of consortium.
In northern Kentucky, persons injured in traffic accidents can expect to deal with highly skilled insurance adjustors. Insurance personnel work diligently to defeat or minimize your case. Insurance companies hire smart people to adjust claims and then provide them with specialized training. When a novice tries to take on a skilled insurance company adjustor, he/she runs the risk of settling a case for less than full compensation.
Steven C. Schletker can help you. He has successfully practiced car and truck accident cases for more than 25 years. At the Law Office of Steven Schletker, your case will receive specific and individual attention. An attorney fee will be charged only if the case is successfully prosecuted.
If you are injured in a car accident, Steven Schletker will provide an initial free consultation to help you determine what insurance coverages are available. If the driver who caused the accident is not insured, your insurance policy may provide uninsured motorist protection to pay for your loss of earnings capacity, medical bills and/or pain and suffering.
Even if the at-fault driver has automobile insurance, the liability limits may not be high enough to cover your damages. Your insurance policy may include underinsured motorist coverage to pay for losses over and above what the at-fault driver's insurance policy covers.
Steven Schletker will work with you to develop your liability case against the at-fault driver and to maximize your damages. For a free initial consultation call 859-491-3999 or toll free at 800-254-7487.