Defense Base Act / Civilian Worker Injuries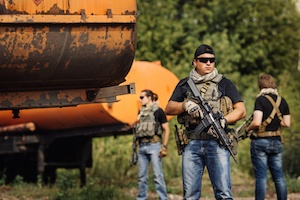 Defense Base contractors draw heavily from the Ohio, Kentucky and West Virginia workforces. Columbus, Ohio is an area where a large number of Iraqi nationals have immigrated. These workers provide valuable services to our military in northern Iraq. Linguists contribute heavily to the protection of our fighting forces. When soldiers and marines encounter Iraqi nationals, having guides with them who not only know the language but also the customs of the area is invaluable.
Protective security specialists take great risks to assist with the defense of operating bases and military institutions throughout the Middle East. These workers perform their service in hazardous war zones and are frequently injured.
The question arises, what happens if a worker performing services on an overseas American military base or for an overseas U.S. government contractor is injured? State based workers' compensation systems do not apply to these types of worker injuries.
Rather than create a new compensation system, Congress extended the Longshore and Harbor Workers' Compensation Act to apply to overseas U.S. government contractor employees. This type of claim is covered by the Defense Base Act. Rules and procedures for Defense Base Act claims are in many respects similar to claims arising under the Longshore Act.
If you are injured working overseas on a military base or for an overseas contractor providing services to the U.S. government, the Defense Base Act will likely apply to your claim.
When an employee is injured in Cincinnati, Ohio or Maysville, Kentucky, accommodations may be provided that enable the worker to remain on-the-job. If, however, you are performing work in Iraq or Afghanistan, even minor physical limitations or restrictions may knock you out of a very high paying job. War zones are no place for an injured worker. "Window or aisle?" is a directive injured protective security specialists and linguists often hear from supervisors when an on-the-job injury is reported. If you are hurt and cannot perform the work, you will be on the next plane home. What happens next?
The Employer is required to report the worker's injury to the Department of Labor. A claim is established by the Office of Workers' Compensation within the Department of Labor. The claim is then assigned to a district office based upon the injured worker's residence. Claims from injured workers who live in Kentucky are assigned to the Jacksonville, Florida district office. Claims from injured workers who live in Ohio are assigned to the Houston, Texas district office. Claims from injured workers who live in West Virginia are assigned to the Norfolk, Virginia district office.
The injured worker/claimant's compensation rate will be determined by his/her average weekly wage. The more a worker earns, the higher the average weekly wage will be. Because of the highly dangerous nature of the work, defense base workers are often paid very high salaries. There is a significant amount of litigation regarding how to calculate the average weekly wage for an injured worker covered by the Defense Base Act. If a worker has been overseas for less than the whole of the year preceding a work accident, disputes often arise regarding how much he/she should be paid per week while off the job with an injury.
Defense Base Act cases also frequently deal with the issue of whether an injured worker should reasonably be expected to obtain light duty employment on a local or worldwide basis. For example, if a worker from Louisville, Kentucky is injured driving a truck in Iraq and cannot return to a war zone, should his/her post-accident job search be limited to the Louisville area or should the post-accident job search include opportunities across the globe?
How these types of issues are handled may significantly impact the value of your claim.
A call to Steven Schletker will start the process of protecting your rights and maximizing your recovery. Companies such as KBR and DynCorp are represented by skilled claims personnel, professional nurse case managers and attorney specialists. The injured overseas civilian contract worker frequently does not have the training, education or experience to successfully litigate a Defense Base Act claim.
If you would like to have your Defense Base Act claim evaluated with a free initial consultation, call Steven Schletker at 800-254-7487.