Kentucky
Kentucky Jones Act, Longshore and Defense Base Act Lawyer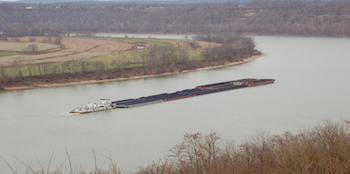 Kentucky ranks second in the nation in miles of navigable waterways, behind only Alaska. Workers from Catlettsburg, Ashland, Greenup, Maysville and Warsaw to Henderson, Smithland, Paducah and Wickliffe earn their living on or near navigable waters.
The Kentucky Workers' Compensation Act (K.R.S. Chapter 342) does not cover Jones Act seaman (46 USC § 30104 et seq.) or Longshoremen 33 USC § 901 et seq.
A Jones Act seaman is a worker assigned to a vessel or fleet of vessels who contributes to the function of the vessel. Deckhands, engineers, cooks, and pilots who ride vessels in navigation during a substantial portion of their work time, may qualify for Jones Act seaman status.
For example, a deckhand who boards a tow boat in Ashland travels downriver toward Owensboro and gets hurt at Markland Locks and Dam would not be covered by Kentucky Workers' Compensation. This worker would most likely be covered by the Jones Act and general maritime law of the United States.
If you have been injured while in service to a vessel and would like to discuss your rights with an experienced attorney, call Steven Schletker. Steve has represented injured river workers for over three decades. During that time Steve has worked on river-related injury cases from Ashland to Wickliffe. Whether you treat with specialists from the Orthopaedic Institute of Western Kentucky in Paducah, Norton Hospital in Louisville or King's Daughters Medical Center in Ashland, Steve Schletker stands ready to devote a personal touch to develop your medical proof.
Docks and landings are located all along the Ohio River, Big Sandy River, Tennessee River and other navigable Kentucky waterways. Although these dockworkers may not travel on vessels in navigation, they may be eligible for the more favorable federal workers' compensation coverage provided by the Longshore and Harbor Workers Compensation Act.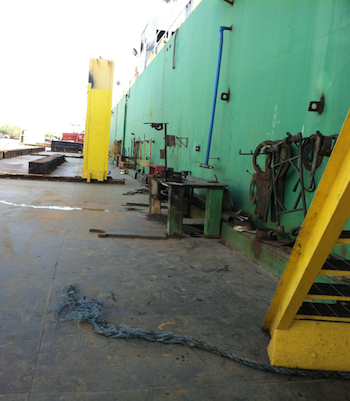 Examples of workers who may be covered by the Longshore Act include barge cleaners, dredge operators, and carpenters at dam construction/repair sites. The Longshore Act covers workers injured on dry docks, piers, wharfs and work flats. It also covers workers on marine sites away from the water. For example, a James Marine machinist at Wickliffe or Paducah may be covered by the federal Longshore Act even though the job does not bring him/her on to the water with any consistency. Close to the water may qualify for Longshore coverage if the worker is performing services in support of loading or unloading of vessels, ship repair or any number of other commercial marine activities.
If you have been injured at work on or near the Ohio River, Kentucky River, Smithland Locks and Dam, Markland Locks and Dam, Mehldahl Locks and Dam or any of Kentucky's navigable waterways, call Steven Schletker for a free, no obligation initial consultation.
Many brave Kentuckians serve the United States by performing overseas public works duties or by providing services for our military outside the United States. The Defense Base Act covers civilian workers such as translators attached to the United States Army in Afghanistan, or truck drivers/mechanics servicing Marine Corps forward operating bases. Steven Schletker has experience working on Defense Base Act claims for workers from the Midwest. He can provide personal service to you and your case. As a fellow Kentuckian, Steve is available to meet with you and your medical providers. It is much more difficult for an attorney thousands of miles away from Kentucky to provide the type of service Steve can from his office in Kentucky.
If you have been injured overseas providing contract services to the United States call Steven Schletker to discuss your rights.