Licking River Accident Lawyer
If you have suffered a boating accident or work injury on the Licking River, contact attorney Steven Schletker for a free initial case consultation.
Lawyer For Boating Accident
Speed boat accident
Jet Ski accident
Water skiing accident
Passengers injured by reckless boaters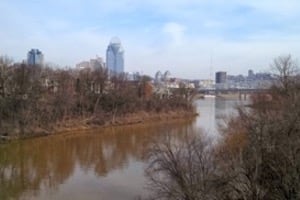 Boaters, water skiers and Jet Ski operators like to travel from the Ohio River up the Licking River. The Licking River offers a much slower pace, is smoother and easier to ski upon. It is much narrower than the Ohio River and not quite as intimidating. Boaters can enjoy 6 to 7 miles of relatively peaceful navigation after turning from the Ohio River up the Licking. However, the narrowness of the navigable channel and presence of water obstacles can be dangerous if the boater or Jet Ski operator is reckless.
While the Licking River does not have nearly as much commercial traffic as the Ohio River, harbor tugs from McGinnis, Inc. and C&B Marine regularly push barges in its narrow channel.
Serious boating accidents and work injuries have occurred on the Licking River. If you have suffered an accident on the Licking River your case may present unique opportunities and challenges. The injured boater's attorney has to determine whether the proper/preferable venue for the accident case is in federal court or state court. Depending on where the accident or negligence occurred, the case could be filed in Kenton Circuit Court of Campbell Circuit Court. The selection of state versus federal jurisdiction may impact your right to have the case decided by a judge or jury. Damages available in state or federal court may differ. To address these types of questions it is helpful to have an experienced maritime attorney fighting for you. Steven Schletker will stand with you to help you receive a fair result.
Steven Schletker has experience representing injured boaters and passengers in Kenton Circuit Court, Campbell Circuit Court and in the United States District Court, Eastern District of Kentucky at Covington. Contact Steven Schletker to discuss your Licking River boating or jet ski accident injury.
Licking River Work Injury Claims May Fall Under Longshore Jurisdiction
The federal Longshore Act covers land based workers injured on navigable waters and on docks, piers and adjacent maritime areas. Workers injured on barges, docks, landings and marine areas on or near the Licking River from the vicinity of the I-275 bridge to the Ohio River may be covered by the federal Longshore Act. The Licking River is a navigable federal waterway at least for the first 7 miles up from the Ohio. When the Ohio River is at pool stage, a 9.0 foot navigation channel is maintained through Licking River Mile 7.0. If you suffer a work injury on a barge in the Licking River, or on a work site near the Licking River, feel free to contact Steven Schletker to review whether your claim may be covered by federal Longshore jurisdiction.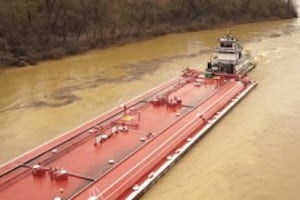 If, for example, you work as a tankerman or bargeman at the Marathon Petroleum facility in Latonia, your work injury may be covered by the Longshore Act. If you are a laborer who helps at the river dock, or an electrician who services the river landing, your employment may be covered by the Longshore Act as well. Compensation available under the federal Longshore Act is frequently more generous to an injured worker than under Kentucky workers' compensation. If you have been injured at work on the Licking River, at a Licking River dock or near a Licking River dock, call Steven Schletker for a free initial case consultation. 800-254-7487 Steve@Schletker.com