West Virginia Jones Act Maritime Lawyer
Looking for a Lawyer Licensed in West Virginia to Handle a Jones Act or General Maritime River Injury Case?
If you were injured while working on the Ohio River or Kanawha River in West Virginia and are looking for an experienced Jones Act or maritime attorney, contact Steven Schletker. 800-254-7487 Steve@Schletker.com.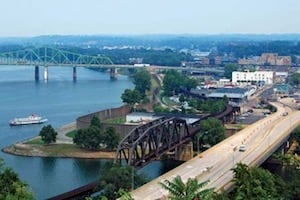 Injured West Virginia workers in land-based jobs typically have their workers' compensation claims handled under West Virginia Workers Compensation. If an injured worker is a member of a towboat or harbor tug crew his/her claim will likely be covered under the federal Jones Act and General Maritime Law.
To establish Jones Act seaman status a worker must prove that he contributed to the function of the vessel or helped accomplish its mission. The worker must also prove that he had a substantial connection to the vessel (or specific group of vessels). A land-based worker who was temporarily aboard a towboat or barge in the Kanawha River or Ohio River will likely not qualify as a Jones Act Seaman, even if the accident occurred on the river. Courts require a worker to prove that he was aboard the vessel to assist with its mission for a substantial percentage of work time. There is no hard and fast rule about how much of a worker's time must be spent in service to a vessel in navigation. However, if a worker spends less than 30% of his work time contributing to the function of a vessel, it is likely that he will not qualify as a seaman.
Steven Schletker has years of experience working with West Virginia Ohio River and Kanawha River workers to establish Jones Act seaman status. The issue of who is a seaman can be more challenging for a worker on the Kanawha River or Ohio River than for a company on the coast. Smaller companies that are located on the river in West Virginia, Ohio and Kentucky often have workers who perform deckhand or engineer type crewmember duties as well as dockworker or land based tasks. A worker could perform seaman type duties in the morning, Longshore dock worker duties in the afternoon and land based West Virginia Workers' Compensation duties in the evening. Steven Schletker can help sort through jurisdiction and other issues that arise in your river injury case. Contact Steven Schletker for a free initial case consultation. 800-254-7487, Steve@Schletker.com.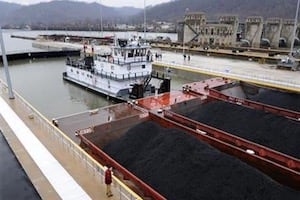 Working as a towboat crewmember on the Kanawha River or Ohio River is dangerous. Yet, when a deckhand, deck engineer or pilot gets hurt, the company can be expected to immediately start working on developing proof to blame the injured worker. The river company will attempt to (1) prove it was not negligent and (2) prove the injured worker's negligence contributed to the accident. An injured deckhand, engineer, pilot or other crewmember is well advised to consult with an experienced maritime attorney before conceding the company was not at fault.
Steven Schletker will help the injured river worker and fight for what the worker deserves. If you have been injured working on a towboat, barge, harbor tug or other vessel on the Ohio River or Kanawha River, contact Steven Schletker. 800-254-7487, Steve@Schletker.com.