Kentucky Jones Act Maritime Attorney
If you are injured at work on the Ohio River, Big Sandy River, Licking River, Kentucky River, Green River, Cumberland River or Tennessee River and are looking for a lawyer, call Kentucky Jones Act lawyer Steven Schletker.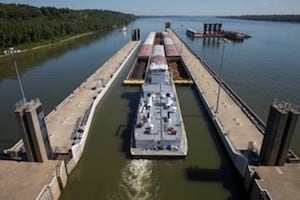 Many Kentucky attorneys do an excellent job representing injured land based Kentucky workers. Maritime workers such as towboat crews, deckhands, engineers, and other Jones Act seaman are not covered by the Kentucky Workers' Compensation Act. Towboat crew members will likely need to pursue a case under the federal Jones Act. Maritime work injury cases are sometimes handled as Kentucky workers' compensation claims until jurisdiction is sorted out. The delay in moving the case forward under the federal Jones Act can work to the disadvantage of the injured river worker.
Towboat crewmembers
Harbor tug workers
Ferry boat crewmembers
Cruise line workers
The Jones Act or Merchant Marine Act of 1920 controls commercial activity in Unites States navigable waters. The Jones Act requires products shipped between United States' ports be carried on United States flagged ships. These ships must be constructed and owned by American companies or American permanent residents.
The Jones Act further provides crewmembers can make claims and collect from their employers if they are injured due to the negligence of the vessel owner or its crew. This includes negligent acts by the captain, pilot and fellow crewmembers. The Jones Act also preserves rights seaman had at common law including the right to bring actions against vessel owners for unseaworthiness.
Kentucky towboat workers are considered seaman in the eyes of the law to the same extent as crewmembers working off the coast of Long Beach, California or Philadelphia, Pennsylvania. In light of the danger maritime workers endure and difficulties faced by traveling away from home, they are treated as wards of the Court.
Steven Schletker has represented Kentucky towboat workers and maritime personnel for more than thirty years. Steve's grandfather and father were pilots on the Ohio River. The United States Coast Guard honored Captain Arthur J. Schletker by naming the Light and Daymarks at Ohio River Mile 472.8 near Ludlow, Kentucky in his honor. If you have been injured while working on a towboat or in a maritime occupation, contact Steven Schletker for a free initial case consultation. 800-254-7487, Steve@Schletker.com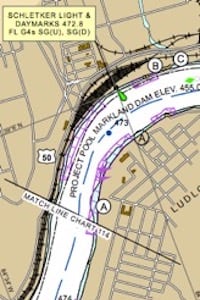 A crewmember who is injured or dies while at work on a towboat, barge, harbor tug or other vessel in navigation has three potential sources of recovery against his/her employer. (1) Maintenance and Cure; (2) Jones Act negligence; and (3) General Maritime claim for the unseaworthiness of the vessel.
Maintenance and Cure is owed to the injured seaman even if the employer was not negligent and the vessel was completely seaworthy. To recover for Jones Act negligence or under a claim that the vessel was unseaworthy, proof of negligence or unseaworthiness must be established. Steven Schletker has worked with injured river workers in Kentucky to establish Jones Act negligence and the unseaworthiness of vessels for more than three decades.
If you have been injured at work on the river, contact Steven Schletker to discuss your rights. 800-254-7487, Steve@Schletker.com.