Monongahela River Dredging Project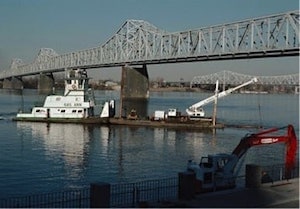 Amherst Madison, Inc. of Charleston, West Virginia won the contact to perform dredging on the Monongahela River starting at Mon River mile 23.8 near Elizabeth and running through Mon River mile 41.5 near Charleroi.
This is a major project worth over 40 million dollars. It is anticipated that workers including oilers, dredge operators, deckhands, and heavy equipment operators will be assigned to the operation. Many of these workers will perform duties on or near navigable waters and will accordingly qualify for coverage under the Longshore Act or Jones Act.
Workers who are assigned to a vessel or group of vessels in navigation and contribute to the function of the vessel or assist with its mission may be covered under the Jones Act. One of the determining factors will be the amount of time a worker spends as a crewmember. If the worker spends 30% of his/her time as an assigned crewmember, an issue of fact may arise as to whether the worker is covered under the Jones Act.
If your dredge duties require you to be on a barge or work flat that is spudded down, or require you to work on a dock, pier or area adjacent to the Mon River, you may be covered by the Longshore and Harbor Workers' Compensation Act. (Longshore Act)
The Longshore Act covers workers at maritime sites who are not crewmembers but are exposed to the risks of working on the river.
If you are injured at work on a dredge site, call Steven Schletker for a free initial consultation. You can discuss your situation in a non-pressure way with an attorney who respects the difficult work that you perform.
Questions arise such as:
Do I get to select my own doctor?
How much will I receive in compensation when I am off work?
How and where do I file a claim?
Amherst Madison has a highly trained claims department. They are covered by Longshore insurance carriers and Jones Act insurance carriers with expert adjustors. They sometimes have their lawyers travel to work injury sites to begin an investigation soon after a worker is injured.
The claims team for Amherst Madison is very good at what they do. If you would like to even-up the odds, call Steven Schletker.
If your dredge related work falls under Longshore coverage, an analysis should be performed to double check Amherst Madison's calculation of your average weekly wage. Under Section 10 of the Longshore Act there is often flexibility in how the average weekly wage is determined. An injured worker's compensation rate is based upon the average weekly wage calculation.
Call Steven Schletker for a free initial consultation of your dredge related work injury.